Domestic shipping is free when you spend over $75.

Shop with peace of mind. Returns accepted through Jan 8.

Get it fast when you shop early. No stress.
Holiday Shipping Schedule:
Shipping carriers are expecting this to be a really busy season and we're anticipating deliveries make take longer than usual. We'll get everything out as fast as we can, but we recommend getting your gifts ordered earlier than usual this year.
In order to ensure delivery in time for Christmas, we recommend getting your orders in by the dates below based on your region. If you're placing a your order after the dates posted below and need it be Christmas, we encourage you to reach out directly to our support team here to look at expedited options.
All bikes and accessories are shipped directly from our West Coast warehouse.
Based on UPS delivery estimates, we recommend placing your order by the dates below for delivery by December 24th: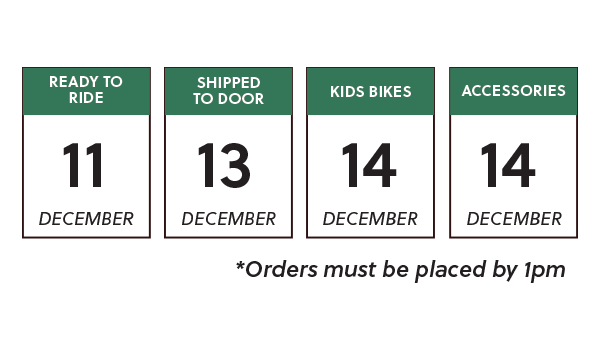 Holiday Return Policy:
Shop with a peace of mind. For orders that ship between November 17th and December 14th, we've extended our return window to allow for returns up until January 9th. Please note: digital gift cards are non-refundable, and are not eligible to be returned or exchanged.
For more on gift returns, head over here.